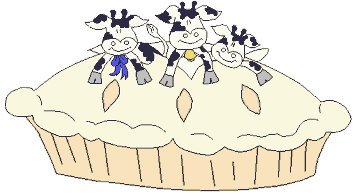 The cow pie
A barnyard surprise your kids will love!
2 cups (12 ounces) milk chocolate chips

1 tablespoon shortening

l/2 cup raisins

1/2 cup chopped slivered almonds

-------------------------------

In a double boiler over simmering water, melt the chocolate chips and shortening, stirring until smooth. Remove from the heat; stir in raisins and almonds. Drop by tablespoonfuls onto waxed paper. Chill until ready to serve. Yield: 2 dozen.
Back to/CENTER>