Fun on the Farm
What is farm life like for kids? Years ago most kids were only one generation "off the farm". Now, few children have a grandparent who live on a farm and they have no idea what farm kids do for fun. Here are a few favorite fun things.

---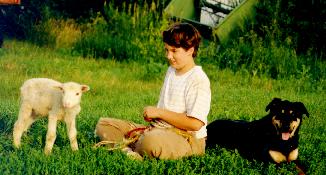 Playing with the baby animals is always on top of the list of favorite things. Whether it be lambs, piglets, calves or chicks the kids make pets of them all and in the process learn how to care for them.

---
Playing in the pasture or the woods making a fort, playing cowboy, or perhaps picking flowers for Mom. Great fun can be had and the only limit is your imagination.

---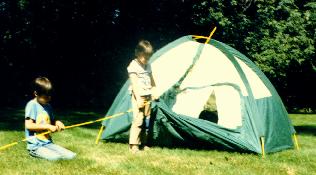 Camping in the backyard can be a fun adventure close to home. Invite a couple of friends, pack up a bunch of pillows, a bag of marshmallows, and maybe a puppy or two. Oh, and don't forget the flashlite and maybe some extra batteries!

---
Taking part in 4-H is a lot of fun but also a great deal of work. Records must be kept and if it is an animal project, daily care and training of the animal is necessary. Dairy makes a fun project for the young dairyman. Ponys are another popular project. A blue ribbon is the goal, but whatever the result, the youngster will never forget his 4-H years.

---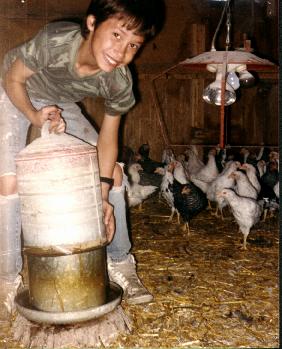 But life on the farm is not all fun. The family often times works as a unit and as the kids grow up they have chores to do, morning and night. Not that these chores in themselves can't be a source of enjoyment. Chicken chores can be fun, especially if you find some baby kittens playing in the nests when you go to pick the eggs!. Hopping on your pony to get the mail might end up taking an hour if you take the scenic route! Putting up hay is another family project. The smell of the fresh hay fills the air. The haymow is an ideal place to make hideouts and to have sleep overs. It's also a good place to search for baby kittens.

---
Yes, the experiences on the farm are awesome and it's too bad every kid couldn't have the fun, the responsibilities, and the discipline one gets growing up on a family farm.

---
Where do farm kids like to go on their vacation?
Back to